The main content of this page begins here.
Simplifying ordering process for parts and reducing stock with a combination of "Kanban" and "WMS"
Customers are facing an increasing number of mistakes related to parts stockout at their manufacturing plants due to sudden increases in production volume. Greater accuracy with procurement and ordering processes, and expandable manufacturing lines have become a priority. It was here that STS stepped in and proposed a combination of the "Kanban system" and WMS to simplify the order process for parts and better cut back on excess stock. Data on parts used on manufacturing lines are managed with WMS, insufficient parts are identified with an alarm before any stockout, and safety stock levels can be verified at any time. The use of the "Kanban system" allowed JIT delivery to plants for procured parts, with another manufacturing line able to be installed in the extra space that had previously been used by excess stock. Resolving one issue at manufacturing plants like this can bring major improvements to productivity, and is a prime example of the capabilities that STS is able to offer.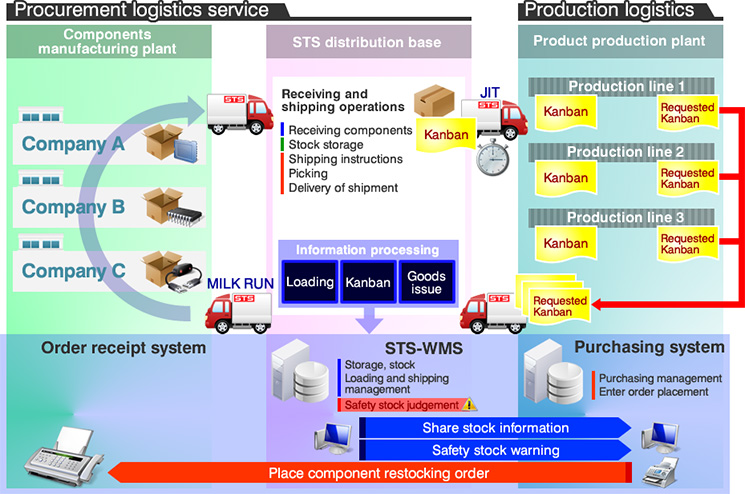 PC replacement work around Japan
The useful life of PC equipment ranges between 3 and 5 years, and customers seek to replace their old PCs throughout the year. Replacement PCs need to be configured to suit the office environment they will be used in, and also need to be installed outside of office hours. Schedules need to be organized to suit each individual office, and all PCs need to be replaced over holidays or at night. STS uses its proprietary WMS for the central management of information, and employs its kitting centers to load OS images and update settings for individual PCs before forwarding and transporting them to delivery centers located in major cities around the country. Each delivery center organizes delivery of PCs to customer offices, before removing and collecting the current PCs and setting up, connecting and verifying the operation of new PCs.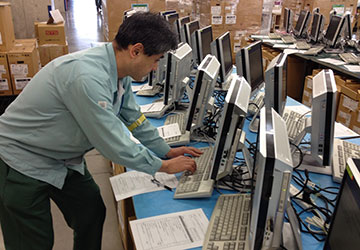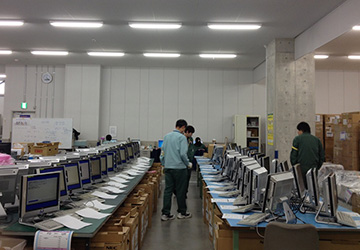 Corporate Profile Pamphlet