The main content of this page begins here.
A comprehensive logistics service for precision medical equipment and medical research facilities, covering all processes from delivery work (transportation, receiving and installation) to removal work (disassembly, removal, transportation, packing and shipping overseas), as well as hospital and medical facility relocations.
STS works closely with customers to develop precise operating plans to suit the products being shipped, and the type of location they are being shipped to. Every year, experts trained specifically with medical equipment use special tools to work with hundreds of moves, from tiny medical instruments to large medical machinery weighing more than 10 tons.
Main types of equipment shipped
X-ray diagnostic apparatus (X-ray machines)
Ultrasonic diagnostic equipment
X-ray CT scanners
MRI machines
Nuclear medicine diagnostic equipment
Angiographic equipment
Example of work flow
Step 1 Work plan
Preliminary work involves checking the size and weight of the equipment to be transported, as well as the width, height and weight capacity of the route the equipment needs to be moved through, before selecting the appropriate transportation materials. Detailed work plans are proposed together with the customer based on the information acquired during the preliminary work.
Step 2 Work preparations
Supervisors and expert personnel, heavy machinery, equipment and protective materials are then arranged based on the finalized work plans.
Step 3 Installation work
On the day of the move, protective materials are installed along the route, and steel scaffolding or H-steel rails for rolling loads are set up in preparation for the medical equipment to arrive. After arriving on site, the wooden crate is opened and the equipment is lifted out with a heavy crane, with heavier equipment placed on the H-steel and special movement jigs installed to move the equipment. Personnel follow the instructions of the supervisor, and make minor changes to the transportation route to move the equipment to the installation location within the building. After all equipment is delivered to their destination, personnel slightly adjust the positions of each device, and assemble and install them in accordance with specifications.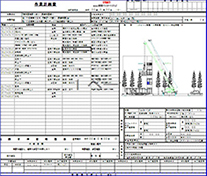 Work plan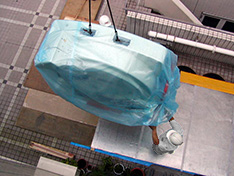 Unload with crane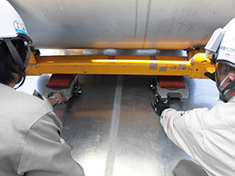 Transportation inside
Request documentation, inquiries
Online inquiries
(office hours: 9:00 to 17:00 weekdays)
Corporate Profile Pamphlet