The main content of this page begins here.
More than 100 years has passed since the STS Shinkai Group was established in 1909, and the entire company is committed to the next 100 years.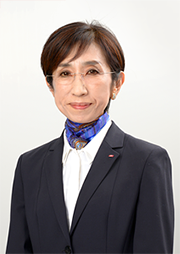 Corporate Name
Shinkai Transport Systems, Ltd.
Chairperson and Representative Director: Aya Koga
Ever since its foundation, the STS Shinkai Group has focused on the movement of precision equipment and other electronics and communications devices, and kept in line with the times as well as changes and developments with technology.
With such a long and proud history, the STS Shinkai Group has developed three core beliefs to help it weather the tremendous changes it has lived through.
"The spirit of cooperation and harmony"
"The spirit of making a contribution"
"The spirit of taking on challenges"
Built on these three core beliefs, STS generates "new value" within the SCM flow based on the customer's perspective, and provides seamless precision equipment SCM with a view to making further changes as required.
Never afraid of change, and instead instigating change from within, STS provides customers with its own brand of solutions.

Company Motto
The STS Shinkai group company motto includes the very basic spirit of the STS Shinkai group that is to be valued today, as well as far into the future. To coincide with the company's centennial milestone, STS returned to its roots to carry on the spirit and will of the company's founder and second-generation president, and act with full responsibility for the future.
The spirit of cooperation and harmony
Each and every employee musters and harnesses their capabilities.
The company only exists because of the spirit of cooperation and harmony amongst employees, and STS respects such dedication. The very essence of this cooperation and harmony is embodied in the name "Kyodosha" when it was first established.
The spirit of making a contribution
Contribute to society through business.
The company is a public institution, and maintains its relationship with society through the services it offers. STS aims to work in a dignified manner, and make valuable contributions to society. Both the founder and second-generation president provided personal donations to the founder's home town as a way of stimulating growth in public enterprise.
The spirit of taking on challenges
Never afraid of making mistakes, and always taking on new challenges.
Society continues to evolve around changes occurring throughout the logistics industry. STS continues to try new challenges to adapt to these changes as it works towards the future. After repeated failures, the founder settled on the name "Shinkai" for its Japanese meaning of "opening up a path to a new future." The second-generation president proposed the name "STS (Shinkai Transport Systems)" as a visionary concept for modernizing the logistics world, and the company maintains its commitment to such an approach.
Corporate Profile Pamphlet