The main content of this page begins here.
The 3PL service provided by STS is aimed at streamlining all aspects of operation, including reducing inventory and shortening lead time, through visualization of product the movement within the supply chain. STS also proposes improvements to logistics with more efficient operation and optimizations to logistics based on IT to achieve a multi-functional, high-value added, high-quality 3PL service.
With over 40 years continually examining the supply chain logistics business, STS is committed to developing the optimum total logistics service. STS utilizes the latest technical capabilities and high-potential suggestions for making improvements to develop scheduling and layout designs that suit business requirements, ensuring full support at every step, from launching new business to improving work operations. Separating commerce and logistics leads to greater efficiency and more transparent logistics costs, allowing customers to focus more on their core management areas.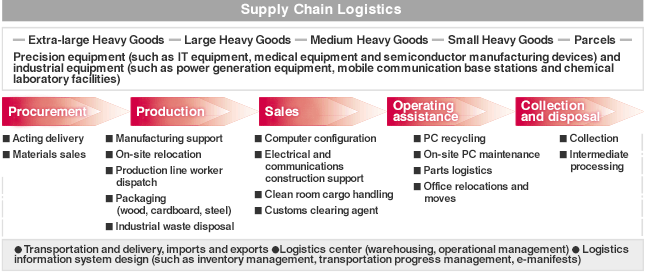 Service lineup
Procurement & Production Logistics

STS assists customers with their production efforts by providing supplying skilled personnel and knowhow, capable of covering all aspects of production, from parts and product inventory management, through to sourcing materials, packing, shipping and delivery.
JIT manufacturing with short turnaround times ensure more efficient allocation of personnel involved in logistics. Revising packing materials and designs also helps to cut back packing costs as part of efforts for more environmentally friendly business operations.

Sales logistics

Optimizing all steps of the ordering process, from operation and design at the shipper and seller side, to inventory control and receiving and delivery management can reduce logistics costs, minimize stock and streamline deliveries.
Stock information can be relayed in real-time so that data is linked to customer sales management systems for quick and efficient logistics management.
STS provides logistics services in customer sales areas at approximately 80 distribution bases around the country.

Service parts logistics

STS has developed a comprehensive service consisting of a 24-hour, 365-day parts center operation and emergency delivery system for the storage of maintenance parts through to dispatching and shipping, emergency deliveries, replacements, disposals and other shipments (returns).
Secure logistics centers on the country share proper stock information via the data network systems for full control of urgent shipments, from receiving orders to delivering them.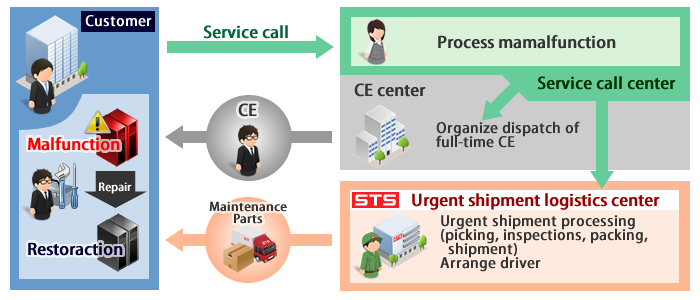 Logistics engineering

Experts in the fields of transportation, packing, cargo handling and information systems analyze vulnerabilities and strong points through site surveys and interviews, and develop potential logistics models covering layouts, cargo movements, tools, equipment and timetables to suit customer business activities. Worker training is also provided to ensure optimum operations, increasing returns on outlay through better efficiency.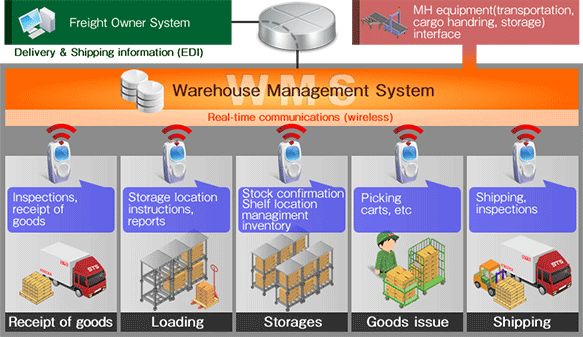 Request documentation, inquiries
Online inquiries
(office hours: 9:00 to 17:00 weekdays)
Corporate Profile Pamphlet