The main content of this page begins here.
Transportation
STS provides a secure and efficient transportation service that meets customer requirements via its network of 80 distribution centers in Japan and group company distribution centers located overseas. Examples of services include special transportation for manufacturing equipment, ultra-heavy goods, medical equipment, research equipment and precision computer equipment, a 24-hour, 365-day urgent maintenance parts shipping service, office relocations, transportation by helicopter to mountainous regions, collection and transportation of industrial waste, and low-cost mainline services.
The 800 vehicles operated by STS for land transportation are fully equipped with tail gate lifters. Models are available with air suspension, temperature-controlled cargo space, full gullwing flaps, gullwing gates, compact mobile truck cranes, and other specifications to suit the equipment being transported, for transportation requiring special conditions. An environmentally friendly fleet is being rolled out in recent years, including "compress natural gas trucks" and "hybrid vehicles," and telematics services are also being utilized for eco-friendly driving.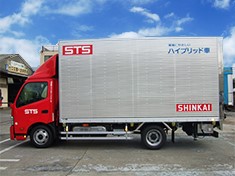 Hybrid vehicle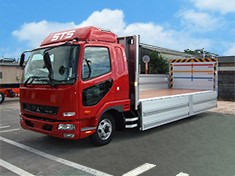 Flat body truck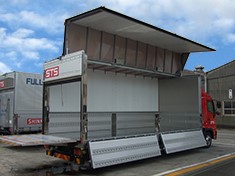 Box truck with gullwing gate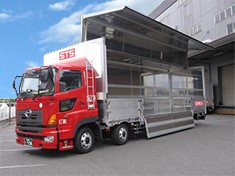 Temperature-controlled truck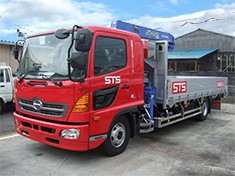 Truck with compact, mobile cranes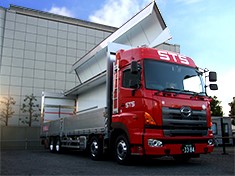 Box truck with full gullwing flap
Storage
Full humidity-control and air-conditioning is available at all warehouses for the optimum storage service. Valuable products are handled with tight security systems at secure warehouses that use high-sensitivity monitoring cameras, motion sensors and electronic keys to prevent against theft or leakage of confidential data.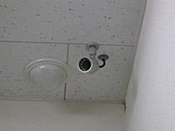 Monitoring camera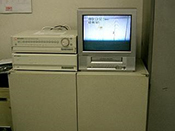 Data recorder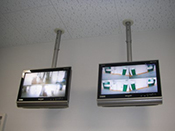 Security monitor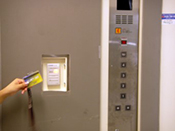 Electronic key
Information on stored products is managed safely with WMS linked with a nationwide network and database stored at a data center, which allows customers to monitor stock information or loading and unloading progress in real time under specific conditions via a dedicated internet connection.
STS may propose more efficient and low-cost loading and unloading operations or storage layouts making revisions as required, from actual quantities to volume, weight and storage conditions.
Request documentation, inquiries
Online inquiries
(office hours: 9:00 to 17:00 weekdays)
Corporate Profile Pamphlet