The main content of this page begins here.
Safety is the highest priority during deliveries, whether that be office or factory relocations or at particular locations (such as mountains or valleys, remote islands, high altitudes, or clean rooms), and equipment is installed in accordance with required specifications covering factors such as assembly, anchoring or earthquake-proofing.
Relocations and moves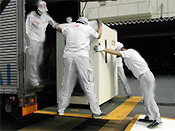 Logistics technicians check site conditions with customers, and propose plans to suit facility characteristics, from ordinary corporate offices to warehouses and commercial facilities.
Being involved in relocation planning from the initial stages allows for a seamless one-stop relocation experience, as optimum time schedules can be developed and the necessary adjustments made at the new location, packing and packaging materials can be sourced in advance and the necessary preparations made for the transportation route and protection requirements.
Cargo handling & Installation of heavy equipment
STS provides a transportation service that covers transportation and installation required for manufacturing plants, facilities and equipment, and complete production line setups. The delivery and installation of large precision equipment such as semiconductor facilities in particular is a that STS has a wealth of experience in. STS maintains a close working relationship with building and construction companies, suppliers of equipment and facilities, and other contractors involved in the construction of industrial facilities, and uses centralized management to ensure a trouble-free launch.
Deliveries of equipment and facilities require different conditions each time depending on factors such as the actual product, location and size, which always requires the optimum time and management. STS contributes to accident-free operations within the scheduled timeframe based on its extensive experience delivering manufacturing equipment to plants and other locations.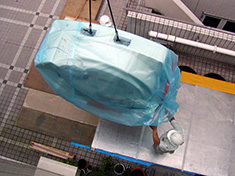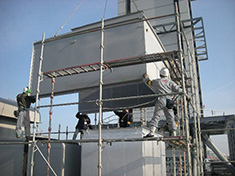 Cargo handling and installation to clean rooms
STS provides an exclusive delivery service to clean rooms at medical institution, research facilities and other areas where contamination control is in place, by utilizing special transportation equipment, protective materials and clothing designed for cleaning packing and low-vibration transit.
The specifications of equipment being transported is discussed in detail with the customer, for installation work covering disassembly, assembly and docking.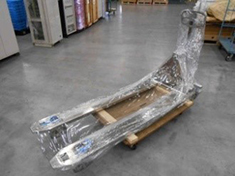 Pallet jack for clean room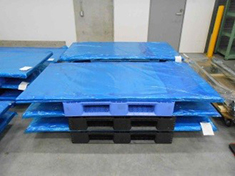 Stainless steel plate for clean room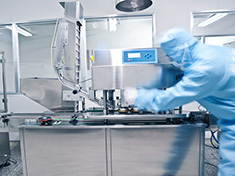 Carrying out from clean room
Cargo handling and installation to mountains, remote islands or high altitudes
Locations that require specialized transportation techniques, such as mountains, remote islands or high altitudes, are covered safely and thoroughly by logistics technicians, who calculate the load capacity and arrange the appropriate heavy machinery, airlifters, stair lifters, gangways, hoppers, steel railing and reinforcing materials.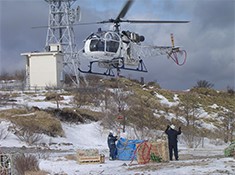 Cargo handling to mountains with airlifter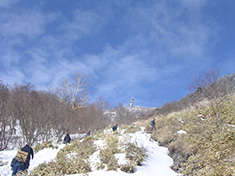 Cargo handling to mountains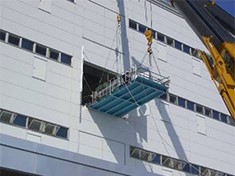 Hopper and scaffolding installation
R&D into tools and equipment designed for special deliveries and installation
STS has a department specializing in logistics research, which develops tools, machinery and material handling equipment with the aim of ensuring safer transportation under special conditions. The various types of machinery that has been developed are covered by utility model registrations, contributing to the development of the logistic industry.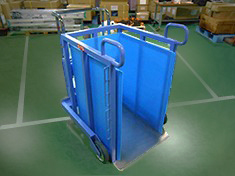 Delivery tool (Utility Model Registration No. 3180619)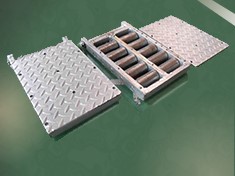 Ultra-low floor roller
Request documentation, inquiries
Online inquiries
(office hours: 9:00 to 17:00 weekdays)
Corporate Profile Pamphlet